We believe that there is always room for improvement: that is why, as part of our continuous development, we have introduced advanced diesel fuel to our Virši station network. This diesel fuel keeps the car's fuel system clean, ensures higher combustion efficiency, and provides 3% more engine power.
About the Virši EVO diesel fuel
Over time, undesired deposits and sediments can build up inside the car's engine; this can prevent the engine from operating as intended by the manufacturer, reduce the engine's power and lifespan, and increase its fuel consumption.
Virši EVO is a high-quality diesel fuel with modern, specialised multifunctional additives that help keep the engine clean, restore original engine power, and reduce its fuel consumption.
Virši EVO fuel additive is produced by one of the world's leading manufacturers of specialised chemicals. This company supplies specialised chemicals, including fuel additives, to leading fuel retailers worldwide.
Features of Virši EVO
Increases engine power by 3%
A cleaner engine not only means better fuel economy, but also more power. Tests have shown that a car running on Virši EVO produces 3% more power and 1.4% more torque/acceleration than a car using a base fuel.
Keeps the fuel system clean
Modern, high-pressure, diesel fuel injection systems are very fine mechanisms, with an injector hole size of 150-200 micrometres (~0.15-0.20 mm); therefore, the buildup of deposits can lead to uneven fuel injection and loss of engine power. In the long term, deposits of microelements can also occur, because, according to the European Fuel Standard EN950, diesel fuel should contain 5-7% of fatty acid methyl ester (biodiesel).
The additive contained in the Virši EVO fuel has demonstrated great protection against various types of fuel deposits in tests and also neutralises the buildup of such deposits.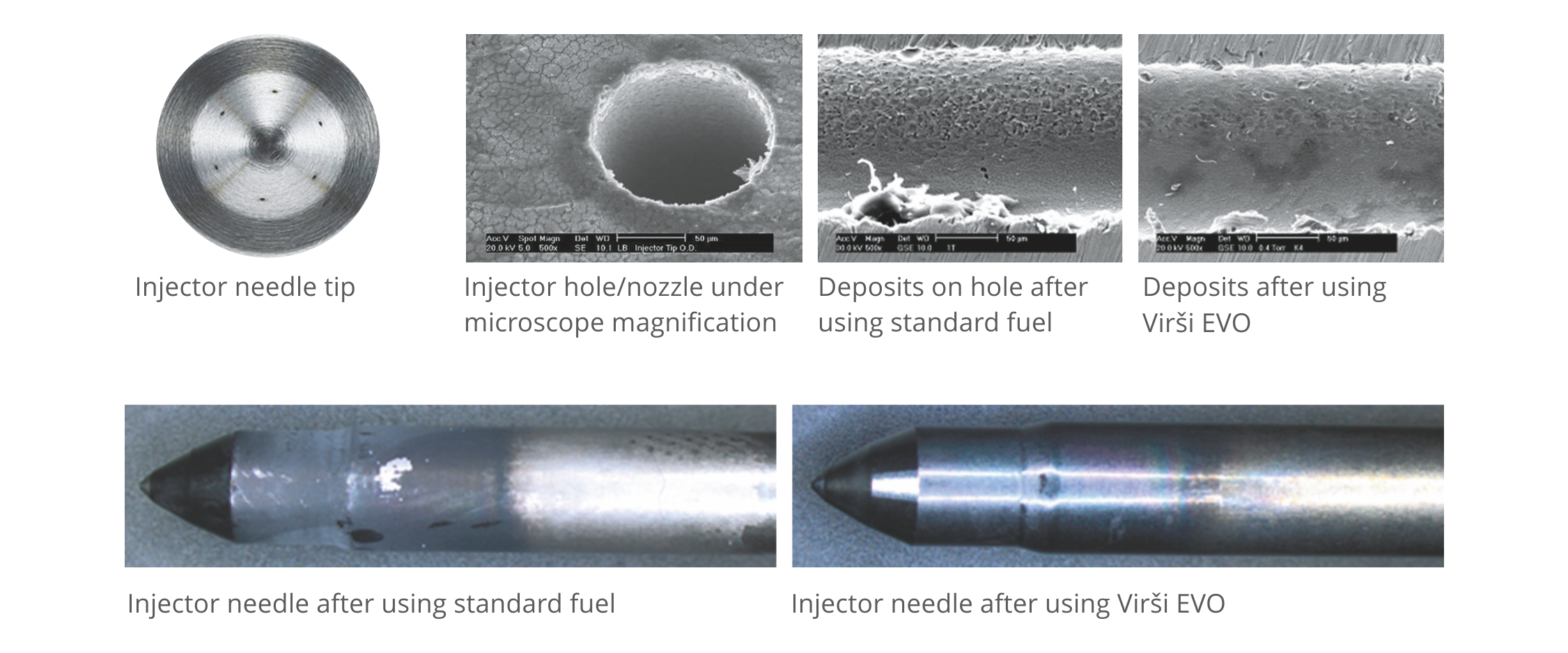 Over time, the fuel system may show signs of corrosion. Virši EVO has excellent corrosion control properties, preventing rust from forming in the fuel injection system.
Virši EVO contains an additive that reduces fuel foaming, ensuring quick and safe refuelling. This quality of the new diesel fuel will be especially appreciated by bus and truck drivers who fill up large amounts of fuel using high-speed fuel pumps.
Preventing the formation of deposits improves the performance of injectors, returning the engine's fuel consumption to the manufacturer's original specifications.
More about the Virši EVO:
What quantity of additives does Virši EVO contain?
According to the guidelines by the fuel additive manufacturer, to achieve the maximum performance of EVO diesel fuel the amount of additive is 186 mg/kg.
Do the additives affect the price of fuel?
Although the market price of fuel with additives is substantially higher than that of standard fuel, Virši offers premium diesel fuel without increasing its price.
Is diesel fuel without additives available at Virši stations?
Virši offers only improved diesel with additives to customers.
Does Virši EVO perform equally well in used and new cars?
For older cars, EVO diesel fuel helps restore the engine power that has been lost over time, while for newer cars EVO helps maintain the power and cleanliness of the fuel system and protects it from deposits and carbon buildup.
Other products and services